About Us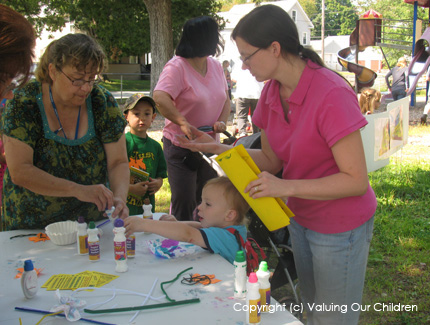 Valuing Our Children (VOC) was established in 1993 by the North Quabbin Community Coalition (NQCC) through a multi-year grant provided by the John Boynton Fund. The organization was established for the purpose of addressing the needs of children in the area by providing primary prevention of child abuse through family support, parenting education, and community development. The mission of VOC is to strengthen families by responding to the expressed needs of parents, addressing barriers to individual family involvement (i.e. childcare, transportation), and building on existing strengths in families and in the community.

VOC has a Family Center located at 217 Walnut Street in downtown Athol and serves the nine North Quabbin towns – Athol, Orange, Royalston, Phillipston, Petersham, Wendell, New Salem, Warwick and Erving. The North Quabbin Patch, located at 423 Main Street in downtown Athol, houses VOC staff members who are co-located with state and community providers serving families in North Quabbin.

The NQ Family Resource Center is a component of Valuing Our Children committed to supporting the health and safety of children in the North Quabbin by building on the strengths in families and in the community. Families will find friendly and helpful staff at Valuing Our Children Family Center located at 217 Walnut Street in Athol or by phone 978-249-8467 and at the North Quabbin Patch office located at 423 Main Street in Athol or by phone 978-249-5070.

What we do:
Provide group and individual based parent education
Individual family support and advocacy
Home visiting
Support groups
Parent/Child activities
Drop in play time at our Family Center
Special family events
Free clothing closet
Book and toy lending library
Leadership development and parent engagement
All programs and services are open to all families in the North Quabbin at no charge.

Transportation and childcare is available if needed. Valuing Our Children is supported by Massachusetts Children's Trust, The Department of Children and Families, Community Connections Initiative and Massachusetts Early Education and Care.

Staff Contact List / Board of Directors / Calendar of Events / Facebook

NQCC Resource Directory